Lifestyle Newborn Photos With Twins | Studio Newborn Session | Pottstown, PA
Doing lifestyle newborn photos with twins means double the love! I'm so excited to share some of my favorite moments from my recent newborn photoshoot with Daphne & Sutton. This sweet family of seven is officially (and adorably) complete!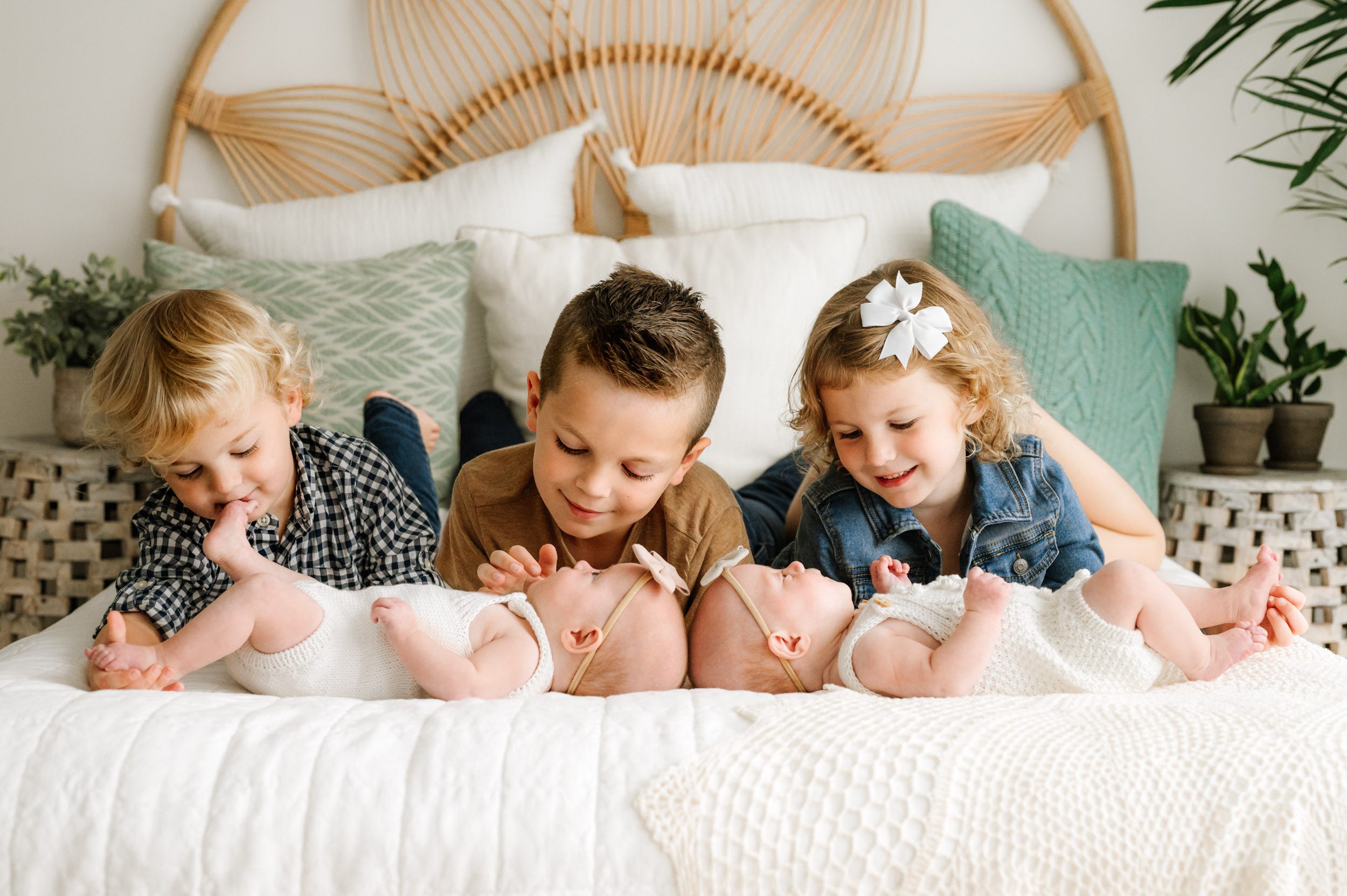 Newborn Photos With Twins – Introducing Daphne & Sutton
As is often the case with twins and other multiples, Daphne & Sutton made an early entrance into the world and arrived 2 months before their due date. After spending their first few months growing bigger and stronger in the NICU, the girls came home and we were eager to schedule their newborn photoshoot! So their newborn session took place when the girls were just over 3 months old.
Even though the girls were 3 months old, their newborn photos look more typical of 6 week old newborn photos since we were just about 6 weeks past their due date at the time of our session. Daphne & Sutton were awake and full of expressions (and even a few smiles). Weighing in at about 10 pounds each, Daphne and Sutton both looked adorable in coordinating white knit newborn rompers and headbands from my Client Closet!
Sibling Photos With Twins
When mom initially reached out to schedule her newborn session, she was planning to do an in home newborn session. But the forecast for our long-awaited session day was not ideal for natural light photos. With heavy rain and an overall dark and dreary day, mom decided to come to my natural light studio rather than try reschedule our session to another day. I feel you, mama–coordinating schedules for a family of 7 is not for the faint of heart!
With a full wall of floor to ceiling windows, we still had plenty of light in my studio even on a rainy day. And in the end, it was the best decision we could have made. As is often the case when it comes to sibling newborn photos, their big brothers and sister would swoop into the frame for a quick snuggle with the twins and then they'd be off again exploring my studio. But since every sweet moment happened in beautiful light, we captured so many beautiful memories!
Family Photos With Twins
Of course Sutton & Daphne were the stars of our show, but capturing their family's love and joy as they begin this exciting new chapter as a family of seven is what makes my my heart the most full. When mom first saw the photos from our session, she said, "They are even better than I expected! You are a miracle worker to get such good photographs out of all the chaos!!" And the truth is, that's what being a lifestyle newborn photographer is all about for me: capturing the beautiful chaos for other moms like me. Because nothing fills a mom's heart more than loving on and being surrounded by her babies!
A healthy baby is the greatest blessing, and the only thing better is bringing healthy twin babies home for the first time! Welcome to the world, Daphne & Sutton! You are so loved!
Looking for Lifestyle Newborn Photos?
I'd love to capture some of your family's earliest memories with your new little love(s)! Kristin Brockman Photography offers natural light studio and in home newborn photos for growing families. For more information, you can check out my Newborn Portfolio and Newborn Session Details. You can also check out my Featured Photo Sessions, to see the full gallery of images from a few of my newborn sessions and reach out if you're looking for a newborn photographer.
If you have any questions or want to inquire about my availability for newborn photography, please email me at kristinbrockmanphotography@gmail.com.
Kristin Brockman Photography is a natural light newborn photographer based in Pottstown, Pennsylvania who serves clients in the Greater Philadelphia area. She specializes in natural, family-centered newborn photos focused on capturing genuine and authentic moments. 
kristinbrockmanphotography@gmail.com