Reading reviews is so helpful when it comes to choosing the best photographer for your growing family! Here are some kind words from clients whom I've had the pleasure of working with. It has been such a privilege to be a part of their journey!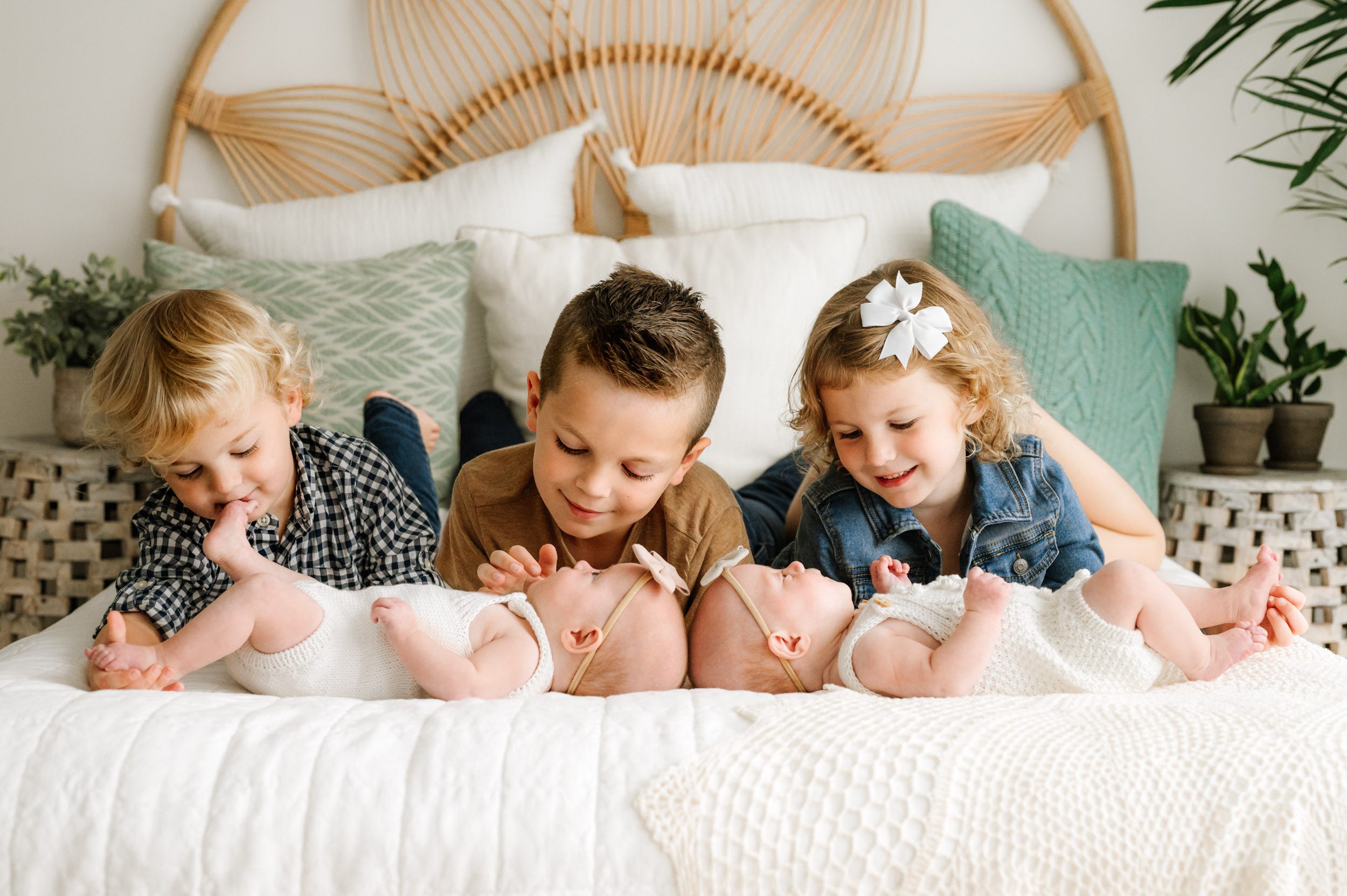 "The words that come to mind when I think of Kristin are warm, flexible, and patient!! We had never done newborn or family photos before and were nervous about juggling this with our family of 7. When the weather was looking yucky the week of our photos, Kristin was in constant communication to discuss moving the location in order to get the best photos possible. Kristin was such a calming presence with our crazy crew and captured the most beautiful photos amongst the constant movement of our little ones. Her turnaround time is also great- we saw sneak peeks on her social media within a few days of our shoot, our proofs about a week after, and the final gallery a week after we narrowed down our choices. We highly recommend Kristin and will be asking her to photograph our family again in the future!"
~ Molly G. | Coatesville, PA
"Kristin is AMAZING! Not only does she take the most incredible photographs, she also makes you feel like you have known her for years. I could not recommend Kristin more!"
~ Daylin V. | Pottstown, PA
"We had a great experience with Kristin for our maternity and newborn photos. She is very personable AND her work is exceptional.
After coming to our house and setting up for the initial newborn photoshoot, our baby was particularly fussy and Kristin willingly rescheduled to another day. The newborn photos were very important to me and I couldn't be more pleased with how they turned out."
~ Lucinda K. | Gilbertsville, PA
"Kristin was incredible during our maternity shoot! The lavender field was a dream and Kristin capture all of our best angles that choosing our favorite photo from the finished album was difficult! We received our album quickly and communication has been perfect!
We cannot wait to have Kristin capture our newborn photos in a few weeks at our home and 1st photos, family photos, holiday photos – we definitely found our family photographer!"
~ Taylor K. | Glenside, PA
"Kristin was amazing to work with and our pictures came out beautifully! I ended up having to reschedule at the last minute due to an illness and Kristin was not only understanding but completely flexible and made rescheduling easy. I can't recommend Kristin enough!"
~ Terry C. | Collegeville, PA
"Kristin was amazing! I would highly recommend her for any of your family photo needs. We had maternity and newborn photos from her and from the start of us inquiring for services to the finished photos she was awesome. She is easy to talk to too, very responsive, organized, and a wonderful photographer. We definitely will use her for our future family photos. Thank you Kristin!"
~ Marichris C. | Drexel Hill, PA
"Kristin was absolutely amazing! She was so prepared and knowledgeable about how to have a great session with a little one. She thought of literally everything, even to the point that she had a diaper pail handy in her studio. She made us comfortable, was kind, thoughtful, and captured the best shots of our little girl. We would 1000% recommend her to anyone. Thank you Kristin!!"
~ Jessica S. | Harleysville, PA
"We absolutely loved working with Kristin! From my initial outreach, Kristin was always very responsive and helpful in answering all my questions. Kristin made all of us feel so comfortable in her studio and photos turned out exactly how I envisioned! I was hesitant to drive 1+ hour with a newborn to Kristin's studio but so glad we did (plus the baby slept the entire way!)"
~ Mary Kate R. | Philadelphia, PA
"Kristin did an amazing job with our maternity session and we are so happy with the final pictures! She is very professional and captured such special moments for us, while also making the experience fun. We cannot recommend Kristin enough and look forward to our upcoming newborn session with her!"
~ Megan R. | King of Prussia, PA
"We couldn't be happier with Kristin and her amazing work! She truly captures the pure innocence and natural beauty in pictures! Kristin is so easy work with and it shows in her work. Thank you for sharing your amazing gift :)"
~ Nicole M. | West Chester, PA
"Kristin was wonderful to work with! She always responded promptly, was very flexible with scheduling and she captured beautiful images during our newborn photoshoot. I love the natural, family oriented style of her photos. We will cherish these pictures forever."
~ Ashley M. | Downingtown, PA
"We have used Kristin Brockman Photography after the birth of our last two children, first using an in home photoshoot and most recently the natural light studio Kristin makes available at her home. During both sessions, Kristin was able to capture beautiful photos of our family – not an easy job given we have 2 rambunctious boys (ages 7 and 2) and a newborn. Kristin has an eye for detail and passion for her job that shows in her work. She is also very patient and flexible and put myself and husband as well as our children at ease during the shoots. She is very responsive and provides all the information you could need to help you prepare for the shoot in advance including advice on selecting outfits. Her natural light studio is beautiful and complete with wardrobe selections for new moms and babies! The edited photos we received were absolutely beautiful and I am so happy Kristin was able to so adeptly capture these moments for us!"
~ Heather M. | Perkasie, PA
"We are so happy that we found Kristin to take newborn photos. She was great to work with through planning the perfect timing for the shoot and helping me prepare family outfits. The end result was an stress-free photo shoot and many loving moments captured with our baby boy that we will cherish for a lifetime. I would highly recommend hiring Kristin for your next family photos!"
~ Lisa Q. | Collegeville, PA
"Looking for a photographer to capture our growing family was daunting, I stumbled upon Kristin and was so glad I did, from newborn photos to one year old photos to family photos after my second son was born, Kristin was amazing every step of the way. She made my boys feel comfortable from the moment she saw them and captured moments I will treasure for years to come!"
~ Jenine B. | Flourtown, PA
"Kristin is the first and only professional photographer I have ever used for our children & family photos. We have been clients since Fall of 19′ and our pictures of our 1st born were PERFECTION. Kristin ALWAYS captures exactly what I have in mind for our annual Christmas cards and summer photos. We participate in her mini sessions and they are great for our kids short attention spans!"
~ Lauren B. | West Chester, PA
"Kristin is AMAZING! We've used her for 2 maternity sessions and one newborn session and every single time we get our photos back they're better than my wildest dreams. She is unbelievably talented and so extremely patient if you have little ones to take photos with too! I can't recommend her enough!"
~ Taryn S. | Pottstown, PA
"Kristen is absolutely amazing! She has been photographing my family since 2020, and her photos are always so beautiful. She captures absolutely beautiful moments, and always captures my sons personality! Kristen takes care of you from the moment you book your session to your final gallery, and even after! She is helpful and kind, and definitely talented! I always look forward to sessions with Kristen, because I know they will be fun and engaging, and my pictures will be stunning."
~ Amanda B. | Glenside, PA
"We look forward to our yearly family photo's with Kristin every year! We started when our daughter was 7 months old and now we are expecting our second! She is so talented and able to capture the most precious moments! As many families can relate, it can be hard to get a nice picture of everyone, Kristin has year after year captured so many amazing pictures of our family! The process is very easy and she makes the session go by so smoothly and fun! I would recommend Kristin Brockman Photography to all my family and friends!"
~ Talissa P. | Chester Springs, PA
"Kristin was such a joy to work with! We have 3 kids under 5 and wanted family pictures that reflect them as they are (high energy and full of giggles). We spoke about our goals, and what my expectations were and she hit and exceeded those. I love the pictures we came away with even more because it was so relaxed and accepting of kids being kids. When I look at the pictures, they are beautiful but also we had a genuinely great time getting them done. Were already looking forward to our pictures next year!"
~ Alyssa S. | Pottstown, PA
"Absolutely love working with Kristin! Her talents gave us the most beautiful maternity pictures and newborn pictures that will be treasured forever. Kristin came to our home for our newborn pictures with everything needed to make the session a success. Her style is so natural and timeless. I've never been a big fan of getting my picture taken but have felt so relax with Kristin. Thank you so much Kristin for another amazing session!"
~ Kirsten M. | West Chester, PA
"Kristin is wonderful to work with! She responds quickly to emails, scouts out the most beautiful locations, and knows how to get kids to smile. Our fall pictures exceeded my expectations!"
~ Laurel M. | Kennett Square, PA
"Kristin was absolutely wonderful to work with. From the beginning to the end, she made the entire process easy. I am so thrilled that we have these photos and would highly recommend her services to anyone, she truly captures such beautiful moments. Not only we're her photos even better than I could imagine, I really appreciated how helpful and communicative she was. She's quick to answer any questions, by email or phone. I was very happy with how quickly we got our photos too! She even gave recommendations of dos and don'ts to ensure the photos would turn out great. I am so grateful to have the photos of my baby, and will be using Kristin again in the future!"
~ Barbara D. | Kennett Square, PA
"Kristin's natural light studio is gorgeous and provided an atmosphere that was peaceul and calming for my newborn. The photos are gorgeous! She had an incredible selection of outfits for both my son and me, and she was very helpful in selecting complimentary colors/styles. When my son (1 month old) wasn't being cooperative, she was patient and helpful in getting amazing photos anyway. Her turnaround time for the photos was super-quick. I cannot wait to return when my son is older for more of Kristin's photos!"
~ Jessie S. | Elverson, PA
"Phenomenal experiences with kristen! My wife and our 2 daughters did 2 photo shoots with her, now, and the photo shoots themselves are just about as memorable as the flawless photos we receive from them (in a very timely manner, I might add) . Her professionalism, her energy, her kindness its all great! It shows that she loves what she does. She comes so well prepared, shes GREAT! With kids (my daughters love her) and she knows just the right poses and exactly where to take them no matter where you plan to have them done, which shows how well she prepares for your shoot. She's also SO good at using whatever natural lighting she can to get the perfect shot, which is quite a gift. I know my wife and I are now lifelong customers 😊"
~ Dustin P. | Easton, PA
"We have used Kristin a few times and have had such wonderful experiences with her and will continue to book her for photos of our family. She is so easy to work with, responsive, professional and best of all she captures the sweetest photos. She is absolutely amazing with children. We always really enjoy the time spent with Kristin. She truly is the best!"
~ Aimee L. | Norristown, PA
"Kristin is the absolute best! Her professionalism and photographic skills are outstanding. I have had her shoot both my small family and extended family and each time was phenomenal! Even when there was a hiccup with lateness on our account she was so kind enough to make time at the end of other mini shoots so we could get family portraits. It was so thoughtful! I have recommended her to other friends and would highly recommend her to anyone looking for quality photos from a thoughtful and genuine person such as Kristin!"
~ Lauren M. | North Wales, PA
"I cannot say enough good thinks about Kristin! I found her on a whim to do newborn photos and never looked back! She is our go to photographer now! She is sooo patient calm and just makes magic happen even with little ones! You can tell she loves what she does too. Her timeliness in getting sneak peaks, proofs, and final pictures back is incredible too!"
~ Channing M. | East Norriton, PA
"Kristin recently did our in-home newborn photos and we were impressed throughout the entire process. Kristen showed up with all the necessary items to truly creat the best photos of our family. She worked wonders getting out 3 year old to participate in the photos and captured so many great imagines. Thank you Kristin!"
~ Sarah L. | Pottstown, PA
"I've worked with Kristin on 3 separate shoots now as my family continues to grow and I cannot put into words how grateful I am for the beautiful shots she has captured of us. Kristin is extremely professional in that she is always on time, prepared, and has ideas about different poses your family can try. However, she's also warm and friendly, and great with the kids! She is so very pleasant to work with, and on top of all that, she is a master of getting beautiful photos out of your session! She gives a clear and reasonable timeframe on when you can expect your images to be completed, and always follows through. She'll even send a text to let you know that the email has been sent, which is so helpful if you're like me and don't always check emails daily. I have been not just happy, but thrilled after each gallery has come back complete. I can't recommend Kristin enough to capture your precious family memories! We will be calling her again for our next session very soon!!"
~ Marilyn G. | Elkins Park, PA
"I reached out to Kristin early on in my pregnancy, and right away I felt like she'd be a great fit for our family. I wanted lifestyle photos of our newborn that were polished but not stuffy as well as photos of our family as a whole. Pardon the pun, but she delivered! I'm thrilled with our pictures. She's also really reasonable so we were able to afford maternity photos, and I felt comfortable enough to take a few breastfeeding shots with her as well. I'm so happy to have both of those, too. I would highly recommend her and hope to work with her again in the future."
~ Lauren S. | Philadelphia, PA
"Kristin is wonderful to work with. The sessions feel natural and the photos we get are a true representation of us. She is great with kids and goes with the flow when it comes to toddlers who may not want to cooperate. We have used her three times now and look forward to our next newborn shoot in a month."
~ Jen H. | Havertown, PA
"Kristin is an amazing photographer! She is so patient with little ones. She manages to capture so many amazing moments in a short mini session that I end up buying the whole album every session. Her photos capture sweet moments that are real and candid. I love having active photos that showcase my children's personalities as opposed to having posed photos. Kristin does a fantastic job of researching the best locations with the best lighting. We have done spring photos with cherry blossom trees, summer photos with lavender flowers, and photos at a Christmas tree farm. Each time we have got stellar pictures from a short mini session. We're excited to do fall themed pictures next with Kristin."
~ Carolyn R. | Royersford, PA
"Could not have been happier with all of the wonderful moments Kristin captured. These are by far some of our favorite family photos taken and we will treasure forever.  To be honest, although we love taking family pictures,  it's usually something my husband and I stress about at the same time due to having a VERY active 3yo and the stress of having him cooperate is not so fun. This session with Kristin was everything but! When my husband and I got in our vehicle to head home we both spoke about how much fun and stress free Kristin made our experience.The way she interacted with our little one being a mom herself, makes a world of a difference! Our little guy just had a ball and the pictures reflect every bit of it! Thank you again for these memories!"
~ Mary W. | Pottstown, PA
"Kristin did a family photo shoot for us in November, and we loved her and the moments she captured! She's great with kids, and her approach of treating the session as a "play date" put our toddlers at ease, allowing her to capture their little personalities.
Kristin was easy to work with, both in setting up the shoot, the day of, and when she delivered the images. She's super responsive over text and email, and provided our photos ahead of schedule. We had a wonderful experience and will treasure our set of family photos. I couldn't recommend Kristin more!"
~ Jen V. | West Chester, PA
"We have had multiple sessions with Kristin and she has been so amazing at every single one of them. She is great at helping us feel comfortable, guiding us on shots as well as working with our toddler. She is amazing with the littles and capturing these precious moments for our family. Her locations are refreshing and she is so easy to work with. I am already thinking about what our next session could be! Thanks so much for everything Kristin!"
~ Mandy B. | Pottstown, PA
"Kristin is so kind, patient and wonderful to work with. she was so great with my kids and the pictures turned out beautiful. we will definitely use her again!"
~ Tiffany N. | Pottstown, PA
"My husband and I had Kristin do our maternity and newborn photo shoots. We could not have asked for a better experience! With both photo shoots, Kristin showed up early to look for the best locations to capture each photo. She made the whole experience so fun and was so easy to talk to. Kristin listened to what we wanted and our goals with each photo shoot and made them happen, but so much better than we could ever envision. She responded quickly by email and had great suggestions as far as outfits to wear, locations, and anything else we asked. The photo quality was amazing, we got so many photos with each package, plus we received a color copy and a black and white copy! We look forward to working with her again in the future! I recommend Kristin for all and any photo needs!!"
~ Corina H. | Horsham, PA
Looking for a Newborn, Maternity, or Family Photographer?
I'd love to help you capture some joyful moments with your growing family! with your new little love! For more information, you can read some of my clients' Frequently Asked Questions and check out my Featured Photo Sessions to see the full gallery of images from some of my recent photoshoots and reach out if you're looking for a photographer for your family.
If you have any questions or want to inquire about my availability, please email me at kristinbrockmanphotography@gmail.com.
Kristin Brockman Photography is a natural light photographer based in Pottstown, Pennsylvania who serves clients in the Greater Philadelphia area. She specializes in natural, family-centered photos focused on capturing genuine and authentic moments. 
kristinbrockmanphotography@gmail.com